The most beautiful beaches in Omiš
Beaches in Omis
Soak up the sun. Ride the waves. Breathe the salty air. Feel the sea breeze. Build sandcastles. Rest, relax and reflect.
All you need is a good dose of Vitamin Sea and D.
If you decide to travel to Croatia and you want to enjoy the beaches, you are in the right place, because that's one of the things of what Croatia is famous for. The country of beautiful beaches owns more than 1000 islands. If that is not enough, you sure will find your perfect beach on another 1778 km of coastline on the mainland. So, let's check which one is the greatest beach in this part of the Mediterranean.
The town Omiš offers you 25km of coastline, exceptional sand, and pebble beaches with a clear turquoise sea.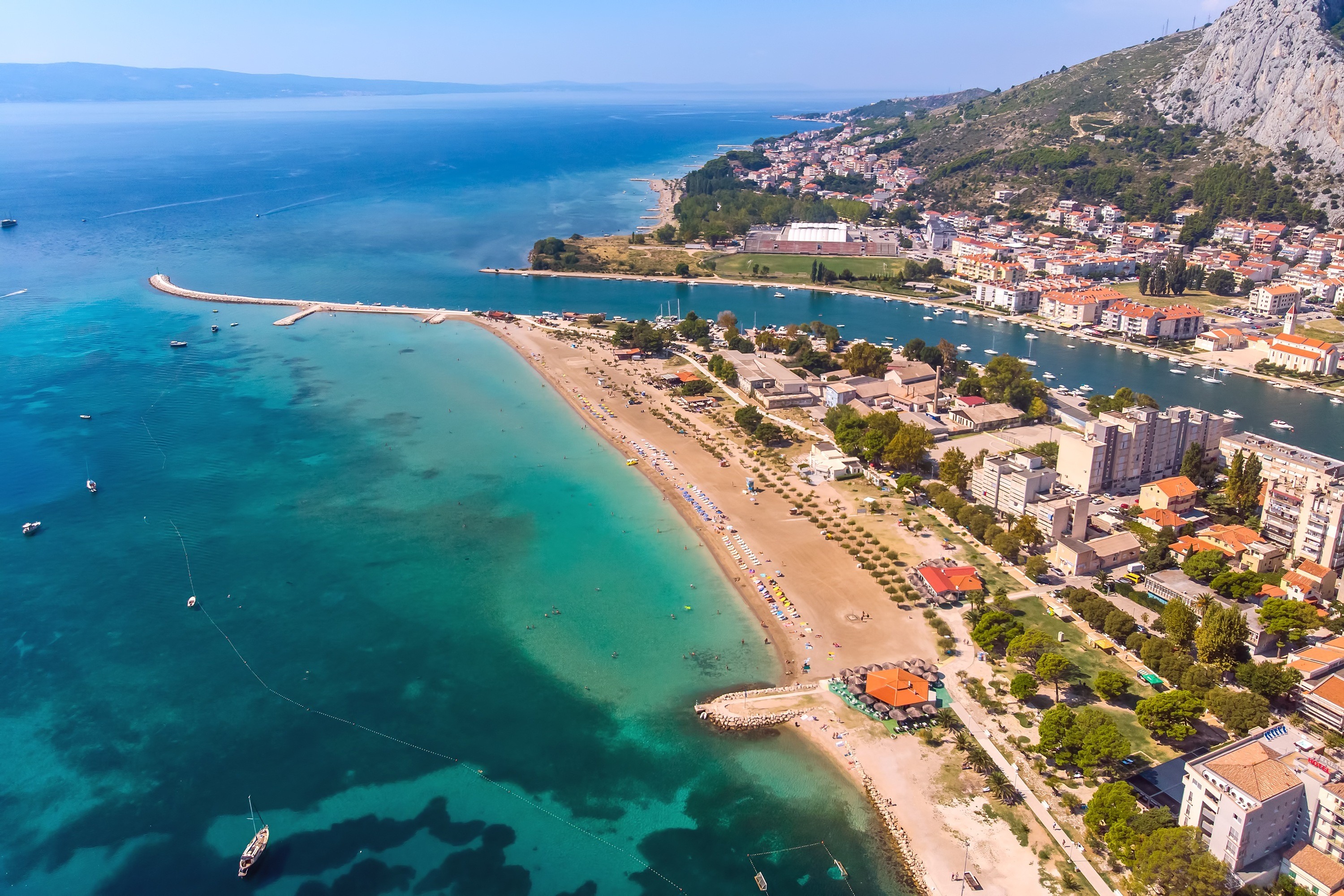 The most famous beach is Velika Plaza (big beach):
Are you a sandy beach person? Do you like to build castles, play beach volleyball, maybe take long romantic walks, and see your footsteps being washed away by the sea? If you like feeling sand on your body, you should definitely visit this beach!
This beach is located just a few minutes from the city center. The best, it is a 700m long sandy beach. This beach is absolutely family-friendly because it is very flat, about 1 km walkable. So you can enjoy the sun and watch your children splash around.
You can rent parasols and sun loungers on the beach. In addition, there is a water park "Wibit" which you can book hourly for your children. You can also play volleyball or football on the designated courts. There are also playgrounds for children and fitness equipment for adults. There is also an entrance to the sea for people with disabilities. Parking is also available, but keep in mind that you have to pay a parking fee by the hour.
It is perfect for families with small kids because the seabed is moderately shallow and recommended for little kids. At some spots, you need to walk for 50 m before you can start your swimming adventure. Don't hesitate and give it a try.
For relaxation, there are 3 beach bars, which become a club in the late-night hours, and several snack bars. You also have a walking path along the beach.
Beach in Duce:
Duće is a district of Omis and consists of the following residential areas: Luka, Rogač, Vavlja, Golubinka, Glavica, and Dočina. The beach in Duće stretches about 6km with several beautiful sandy beaches. Duće is also popular among locals because the beaches are long and shallow and are great for swimming. There are many restaurants, cafes, and snack bars on the beach. You can also rent pedal boats, jet skis, parasols and sun loungers, etc. You can find natural shade in many sections. If you visit the beach by car, it will be difficult to find parking in the afternoon, as many locals also come to the beach after work. Parking is limited and is located along the main road.
In the evening you can enjoy a walk, the asphalt route stretches from Camp Galeb to the restaurant Dalmacija (approx. 1km). Of course, you can also walk on the beach and enjoy the peace of the sea waves. With the colorful buildings and their special Mediterranean architecture, the whole scenery is so picturesque.
Tip: Visit Shooko Beach Bar and Local Bar in the evening, where you can enjoy great food & drinks and the breathtaking sunset.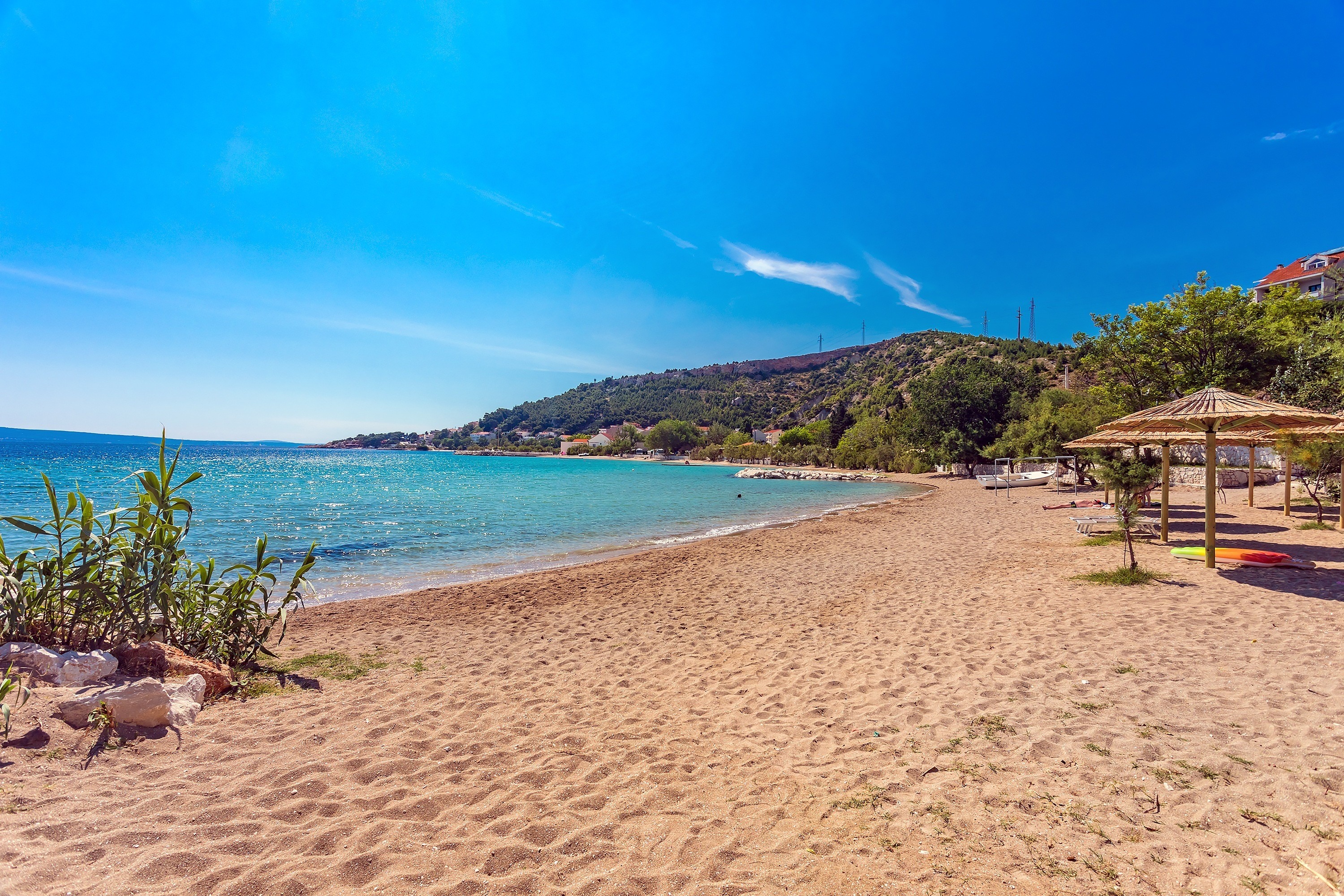 Galeb Beach:
Galeb beach is located between the town of Omis and the Duće district (next to the Studenac supermarket). This belongs to Camp Galeb but can be visited by everyone. This part of the beach is also a flat sandy beach and an absolute highlight for families with small children. Water sports activities are also offered on this beach. Here you can also find a playground and small bars. On the left, near the mouth of the river Cetina, there is a small beach for dogs. Parking is also available, but keep in mind that you have to pay for parking by the hour.
Brzet/Ravnice Beach:
On the left side of Omis is the beach Brzet/ Ravnice which stretches for about 3km. This part of the coast offers fine pebble beaches. The first part of Brzet beach was redesigned in 2020 and offers a paved promenade, cafes, and restaurants. Here you can also rent parasols, loungers, jet skis, and pedal boats. This part of the coast offers several beautiful bays. At the end of the beach, in the direction of the Nemira district, there is a dog beach. The sea is crystal clear, which makes it perfect for swimming and snorkeling. This part of the beach is located next to green, fragrant pine trees. Therefore, you can find natural shade in many parts and enjoy the smell of the pine trees. The view of the mountain landscape is breathtaking when you swim in the sea. There are plenty of parking spaces on the street next to the beach.
Tip: We recommend Restaurant "Zvizdan" to enjoy dinner by the sea.. Other recommended restaurants are Restaurant "Babiloo" and "Brzi Gonzales".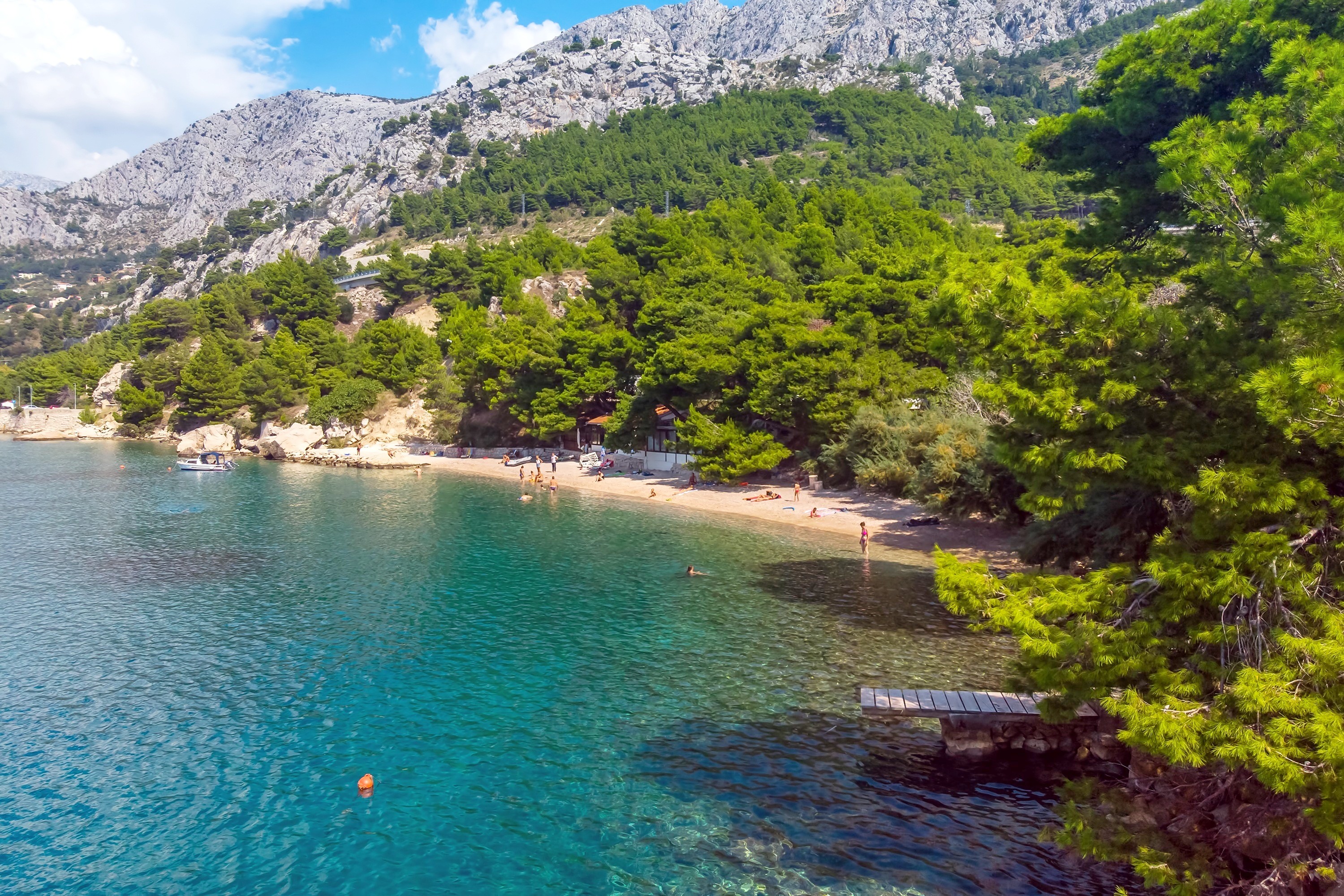 Nemira Beach:
This beach is located in the district of Nemira, not far from the center of Omis. This is a pebbly beach, that offers natural shade and various water sports activities. You can also rent sun loungers and parasols. The beach is not crowded and you can always find a nice spot. Parking is limited and the road leading to the beach is very steep and narrow. Alternatively, you can walk to the beach from Omis (about 20 minutes), or you can park in Brzet/Ravnica district and walk a little bit (about 5 minutes).
Mala Luka Beach:
Mala Luka beach is located between the districts of Nemira and Stanići, and it is absolute advice! This beach is a pebbly beach, with rock formations in the sea. On the edge of the beach, you can snorkel into the turquoise, clear blue sea and watch the fish. This beach offers two bays connected by a small footpath. Here you can find natural shade to relax from the sun. There is also a restaurant and a coffee shop. Paid parking is also available. If you want a day trip, this beach is highly recommended!
The beach in Stanići:
This pebbly beach is located in Stanići. This beach offers natural shade because it has many pine trees. The protruding rocks in the sea also offer a beautiful backdrop. This beach is a paradise for young and old and offers restaurants and cafes to recharge your batteries. You can park on-site, but this will be difficult in the high season because spaces are limited.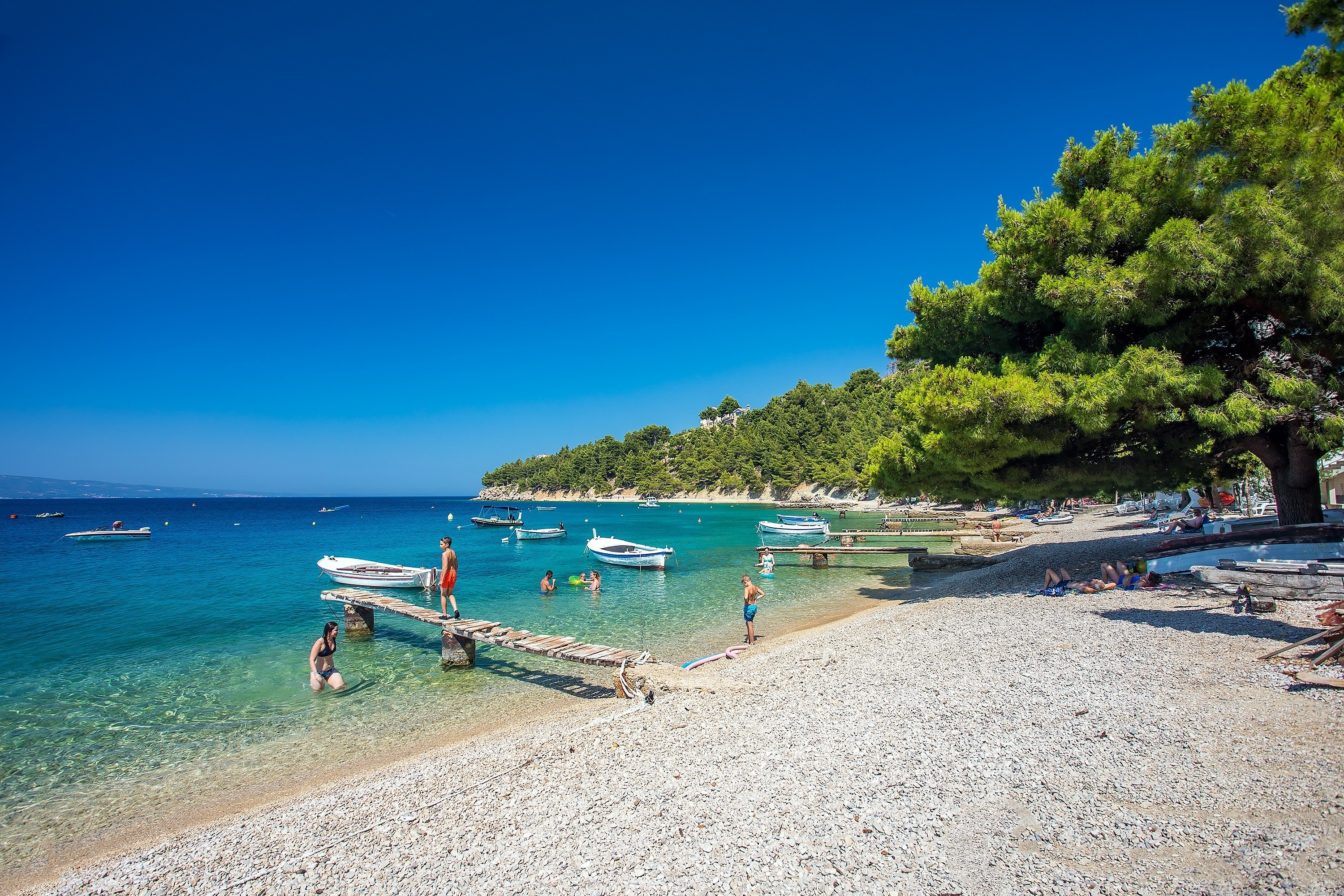 Ruskamen Beach:
Do you identify yourself as being an adventurer beach user type? You don't like crowd, streaming, etc...If so, we have a place, a beach for you. There are lots of secrets, "wild" beaches...Once you get there, you will be faced with a small and quiet beach, surrounded by crystal clear water, small pebbles, or stones and lots of pine trees, which give you a shadow to rest under and besides that provide you as well with a pleasant pine smell. I would say that this is the perfect beach to escape from the city's bustle.
This beautiful beach is located in Lokva Rogoznica and is breathtaking. It's highly recommended for snorkeling and diving (available on-site). Ruskamen is also one of the most popular Dalmatian windsurfing destinations. You will also find various water sports activities, restaurants, bars, parasols, and sun loungers. Part of the beach (bay) is a nudist beach. If you drive, you can park on the main street. In the high season, we recommend that you arrive early in the morning ;-)
The soft sand beneath your feet, the beautiful waves crashing on the shoreline, and the entire sea at your fingertips are so restorative.